Speech
Balamand University's International Forum on Lebanon's Higher Education: "Lebanon Revival Plan, from Myth to Reality"
Statement by Ms. Najat Rochdi, UN Deputy Special Coordinator, Resident & Humanitarian Coordinator for Lebanon.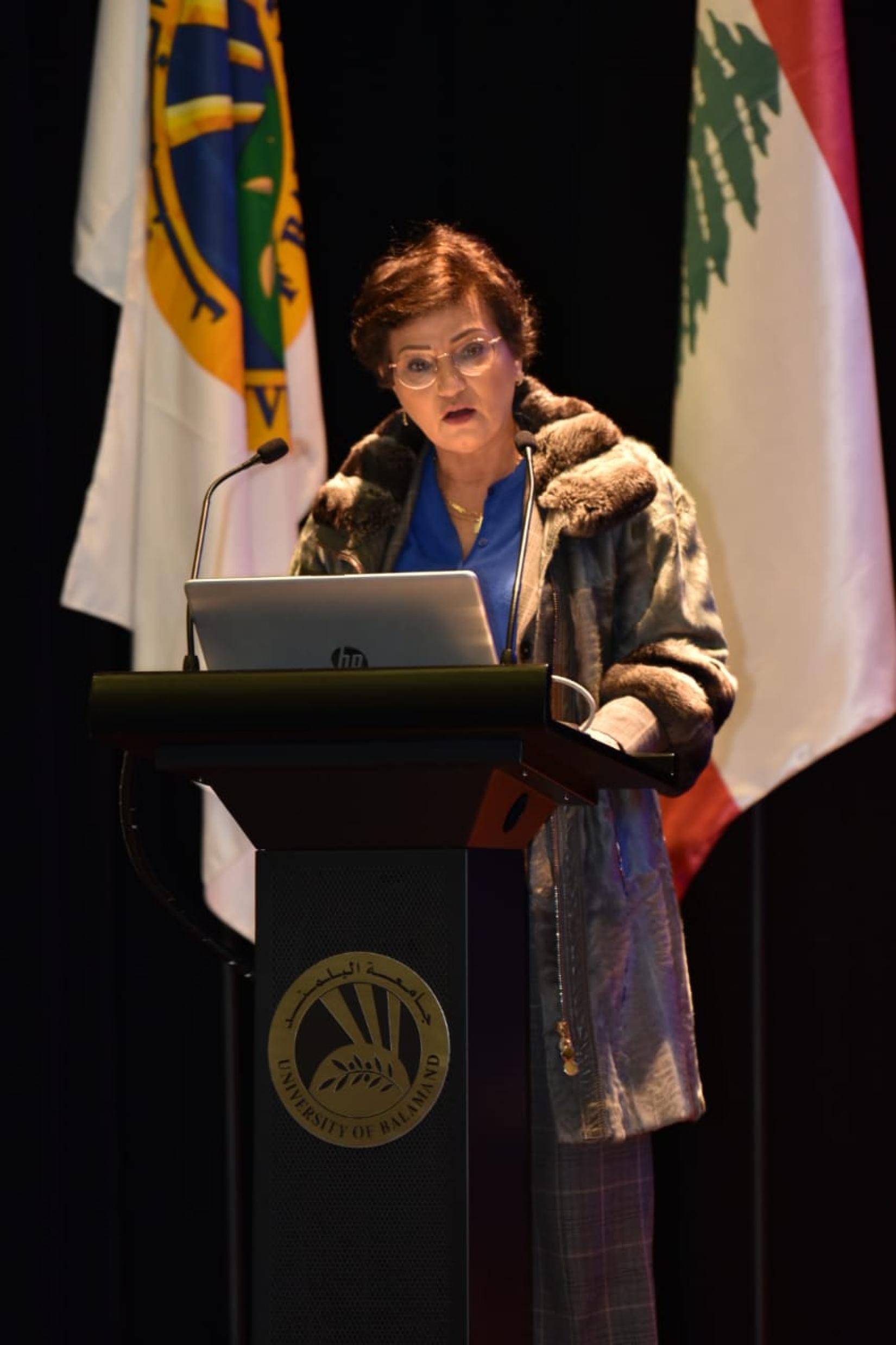 H.E Minister of Education Dr. Abbas Halabi,
Distinguished professors, colleagues,
Young students, the Future of Lebanon,
Good morning,
Allow me first to thank you for inviting me to take part in this important event in such difficult times.
As the UN Resident and Humanitarian Coordinator for Lebanon, but essentially as a former university professor, I am keenly aware of the vital importance of safeguarding the quality of higher education and promoting its access to all. This is an indispensable foundation for achieving the Sustainable Development Goals, for opening up opportunities, and for ensuring better futures for our societies and the people.
Education provides knowledge and skills. Education transforms people's lives, contributes to the prosperity of nations, and drives development. Sadly, the education sector in Lebanon is under threat.
At a time when Lebanon has been labeled over the past decades as the region's education hub, the shining beacon of education in the Middle East, and the main sector that helped revitalize the country after every fall, the education sector -including higher education- is currently encountering stiff challenges. 
The socio-economic and financial crises facing Lebanon, compounded by the advent of the COVID19 pandemic, the devastating effects of the Beirut port explosion, and the deep political uncertainty, have had knock-on effects on education. The Lebanese pound lost a staggering 92% of its value as of December 2021, and this sharp devaluation has ostensibly eroded people's living standards and led to massive losses in purchasing power, putting an additional heavy strain on parents to ensure the continuity of their children's education.
Concurrently, and amid this economic meltdown, Lebanese universities and academic institutions found themselves grappling with a myriad of thorny problems, struggling to match their decreasing resources, their financial deficits, and the sudden exodus of highly qualified professors with the quality of education they usually provide. What is particularly worrying here is the massive brain drain as the country's elite, including university professors, engineers, doctors, and nurses, rush to exit the country in search of stability and decent living conditions. It is estimated that 10 to 30 percent of university teachers have emigrated in the past couple of years. In some cases, a record of 80 percent has left their jobs, most of them teachers of applied sciences, including medicine, engineering, and pharmacy. Of the remaining teachers, up to 50 percent are willing to leave if they have the opportunity. 
Amid the unrelenting wave of mass migration, the World Bank has warned that Lebanon is experiencing a severe loss of human capital, from which it will be difficult to recover. This is likely to be reflected in a marked disjuncture between higher education levels and economic growth.
Against this grim reality and sad backdrop, one can easily conclude that Lebanon is going through another facet of crisis: an 'educational crisis', be it at the public, technical and vocational, or higher educational level.
But what does it actually mean to be faced with an 'education crisis'? The consequences are multiple, staggering, and devastating in the long run! It is no surprise to all that missing the opportunity to go to school and to continue higher education, means a series of unfortunate results: This means a lost learning opportunity, a higher risk of intergenerational poverty; lack of safe learning spaces for the youth to learn and acquire new competencies and skills; mental distress, increased risks of exposure to violence and exploitation; and increased youth recruitment by extremist groups, among other far-reaching consequences…
Most importantly, this means a major barrier to Lebanon's growth and prosperity and a substantial delay to the country's much-needed recovery. What is even more worrying is that Lebanon's massive brain drain is likely to impact the country's human capital, social cohesion, and stability. So, the effect of this phenomenon is much deeper than monetary, it is existential and structural. This is why slowing Lebanon's brain drain must be at the forefront of any governance reform scenario!
Ladies and gentlemen,
The call to action of today's forum is strong and clear. We need to take collective actions and steps to mitigate the impact of the education crisis on YOUth. Without this, the potential increase of 'learning poverty' will have devastating effects and a profound impact on the future productivity, earnings, and well-being of the current and future youth generation, their families, and Lebanon's growth and prosperity at large.
Allow me here to highlight ten major imperatives with regards to safeguarding and promoting the higher education system in Lebanon:
First and foremost, every university should be open and remain open for in-person learning. This must remain a top and urgent national priority. 
Second, the educational system should adopt multiple flexible solutions, reviewing the academic year calendar, scaling up catch-up classes and summer schools, and implementing the learning recovery programs. 
Third, every young woman and man currently outside the formal education system due to the deteriorating socio-economic situation should have the opportunity to resume learning. Civil Society Organizations but also the private sector, play an important supportive role to provide youth-centered learning opportunities.
Fourth, every teacher and professor should be fully supported and motivated to return to teaching and equipped with the needed support and tools to welcome youth back into a safe environment and provide catch-up for lost learning, including social, emotional, and psychosocial support.
Fifth, Lebanon's education sector, including higher education, should be capacitated to provide transparent, comprehensive data on formal and non-formal education to determine the scale of learning loss, student dropouts, and the barriers to education that students of all nationalities and backgrounds are facing. This will help inform future policies and shape reforms in the education sector.
Sixth, universities must be financially and technically supported to retain their specialized faculties and researchers. Quality assurance laws must be also promoted. This refers to enacting the Law on establishing a National Quality Assurance Agency for Higher Education; regulating remote learning in light of the recent need for online learning; and reforming the governance and financing of the Lebanese University.
Seventh, regular dialogue and effective coordination among all university partners should be scaled up to ensure a joint response to crises affecting higher education while acknowledging the key role of CSOs in this realm.
Eight, the need to anticipate and match labor market needs with updated higher education curricula, in close partnership with the private sector. Lebanon's economy is inevitably going to change from a consumer-based economy to a more productive economy. This requires a more proactive, flexible, and innovative education system that helps students acquire special skills and experiences to match the demands of Lebanon's changing labor market, slow down the brain drain, and invest better in the capabilities and excellences of Lebanese students in the country's economic recovery process.
Nine, the need to develop and implement a higher education management information system to increase oversight of the private sector, ensure collection of quality data and facilitate regulatory processes.
Ten, the education sector in general and the higher education institutions, in particular, need substantial support in order to carry the crippling burdens imposed by the unfolding crisis. This should be taken into consideration in the economic recovery and revival plan.
Allow me to add to the above another overarching necessity to cope better with future crises: the Government of Lebanon should strengthen the resilience of the education system by placing a strong focus on equity and inclusion and on reinforcing capacities for risk management. Failure to do so poses major risks to the country's stability.
Despite the obstacles posed by the COVID19 pandemic, by the popular protests, and closure of roads, the transformation of education systems has been stimulated and reinforced in Lebanon: innovative solutions for learning and teaching continuity have flourished, despite major digital divides. Building on this opportunity, distance learning becomes a plausible way to 'reimagine' higher education and make it accessible to all the young people who are eager for higher education and better work opportunities. This presents a chance to make higher education more equitable and inclusive, and obviously more flexible.
Turning all these recommendations into realities is a significant challenge indeed. But we have the power to shape Lebanon's higher education, only if we work together and really bring the partnerships that are necessary to scale it up. We need all-hands-on-deck! No single party or institution can meet these urgent needs on its own. All of us, the UN along with you the private universities, university networks, and the Government must work hand in hand to safeguard Lebanon's higher education and protect the future of the youth of Lebanon. We must also recognize investment in higher education as critical to Lebanon's sustainable recovery. The United Nations system in Lebanon is fully committed to doing its part on this front.
Ladies and gentlemen,
Lebanon has been long known for its remarkably high skilled, educated, and multilingual young workforce. YOU- the Youth of Lebanon- are the lifeblood of the country, the messengers of hope and change-makers for Lebanon's recovery and development.
For years and throughout history, the country has been exporting brilliant minds who contributed to the development of many Arab and non-Arab states, who excelled and succeeded in everything they did. Today, the country needs YOUth! The continued brain drain will only hinder Lebanon's ability to recover and may even precipitate demographic upheavals. So, together let's stop this bleeding.
Preserving the higher education sector, allows the country to sustain the quality of education and to continue to produce 'skilled' intellectuals and young innovators that would preserve the particularity of the Lebanese people, protect their most valuable asset and ensure the country's recovery.
Today's forum could not be more timely. I am honored and proud to be with you to discuss this further because I strongly believe that when we protect Lebanon's higher education, we protect the future of this country, and secure the country's rapid and sustainable recovery.
Thank you very much.
Speech by
UN entities involved in this initiative
RCO
United Nations Resident Coordinator Office
UNESCO
United Nations Educational, Scientific and Cultural Organization