FAO trains Lebanese potato farmers in Baalbek on environmentally sustainable Integrated Crop Production Practices
The notion of Integrated Crop Production Practices is finding its way into Lebanese agricultural practice, and this seminar series sets the ground for it.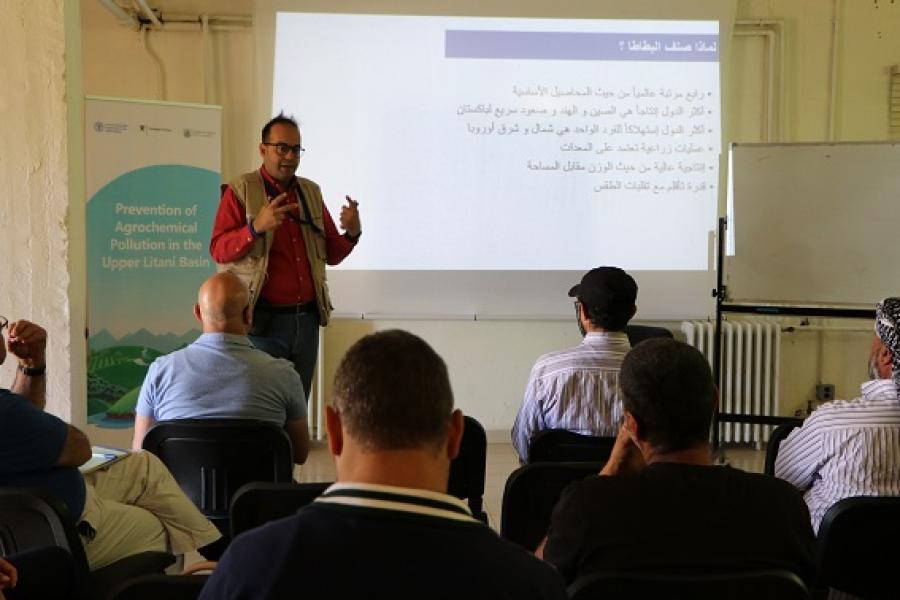 Photo | FAO Lebanon
Samir Seklawi, a potato farmer, eagerly travelled from his village to attend a seminar on Integrated Management of Potato. Samir was one of the twelve potato farmers coming from the region of Deir El Ahmar, to benefit from the seminar organized by the UN Food and Agriculture Organization (FAO). The seminar is part of FAO's project on "Prevention of Agrochemical Pollution in the Upper Litani River Basin" implemented in collaboration with the Ministry of Agriculture and funded by Norway, which aims at reducing agro-chemical pollution of surface and ground water in the Upper Litani basin through the promotion and application of Integrated Crop Management (ICM) practices.
"This seminar is an opportunity to discuss together challenges and problems you are facing in the potato cultivation activity and benefit from tips and knowledge," said the FAO crop production expert. Farmers shared numerous questions on tuber initiation, tuber bulking, irrigation, post-harvest practices, fertilizer and pesticide use and application among many other topics.
"I decided to attend all the seminars organized by FAO to get the maximum benefit from the information shared on potato cultivation in general and irrigation in particular," said Samir Seklawi adding that he admires the fact that FAO advises the farmers on fertilizer and pesticide application and irrigation without any commercial intention. "After attending these workshops, I changed my perspective and the way I want to plant," he said. "I used to spray pesticides in my land not being aware of the repercussions of such a decision," he added. 
Michel Rahme, another potato farmer from Deir El Ahmar appreciated the amount of important information shared during this seminar. "We used to adopt different practices in planting. This seminar offered us a new perspective on good agricultural practices" he said. "It is time to apply what we are learning in the field."
These seminars are targeting potato farmers in different regions of the Bekaa during June 2020 followed by field days in July. In February and March 2020, three seminars were also conducted by FAO as a follow-up to four seminars and field days implemented in 2019. 
For Ali Zaiter, a potato farmer from Kfarden, farmers desperately need the tips and information shared by FAO during the seminars. "We are benefiting a lot from the information-sharing and we are happy that the project team is closely following up with us in the field to increase productivity and enhance the quality of our products" he stressed. 
To ensure support and encouragement to the farmers, FAO also trained project facilitators and technical staff from the Ministry of Agriculture on Integrated Crop Production Practices from land preparation, going through seed selection, preparation and planting till harvest and passing through all field practices (ridging, irrigation, pest management, fertilizer management, etc…)
Facilitators increased their technical capacity, became more confident and were able to gain the trust of the farmers who consult with them on every problem and challenge they are having in their land. Almost all farmers attending these seminars agree that they need to shift to a more environmentally sustainable and economically feasible approach of growing potatoes.
UN entities involved in this initiative
FAO
Food and Agriculture Organization of the United Nations
Other entities involved in this initiative
Goals we are supporting through this initiative