Story
Cultivating seeds and dreams in Lebanon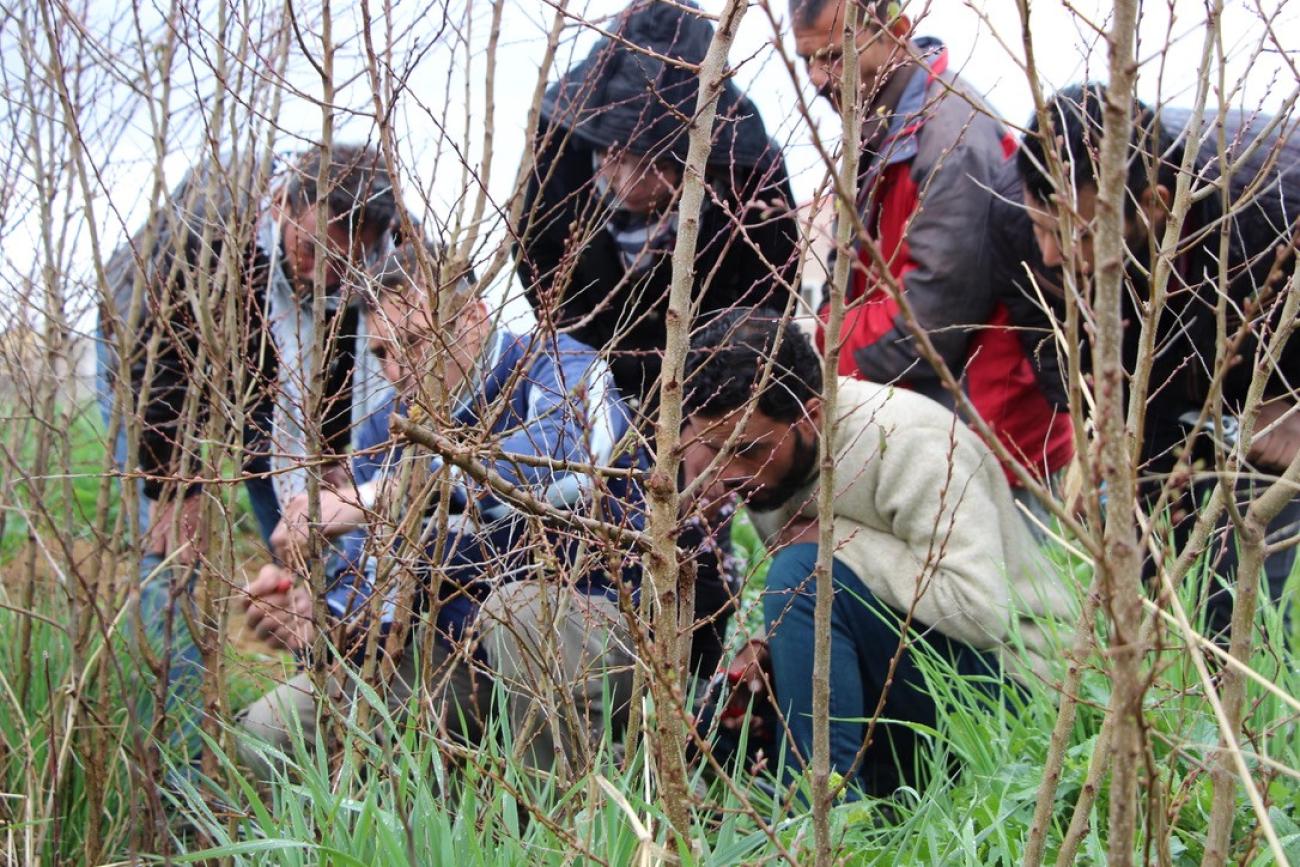 How sustainable agriculture courses in the Bekaa Valley are boosting livelihoods and benefiting entire communities.
Nestled amid green fields in the centre of Lebanon's Bekaa Valley is a seemingly unremarkable farm. There's a tribe of goats softly bleating, a dozen chickens kuh-kuh'ing to each other and raindrops plopping into muddy puddles all around. Plastic sheet doors of two greenhouses gently flap in the wind and there's a faint smell of manure in the air.
It's a typical small farming scene, but it's yielding far more than I expected. In fact, there's a bumper crop of farmers graduating from the sustainable agriculture courses being run on this farm. It's the initiative of Lebanese non-governmental organisation Amel, one of the World Food Programme's (WFP) partners in Lebanon, and run by local organisation Buzuruna Juzuruna ('our seeds, our roots').
Green thumbs
Using funds from Germany's Federal Ministry for Economic Cooperation and Development (BMZ), Amel is running a vast curriculum of sustainable agriculture trainings for local Lebanese and Syrian participants keen on cultivating their green thumbs. The list of classes that they run is exhaustive, but highlights include tree management, bee keeping, tree grafting, composting, seed cultivation, producing organic pesticides and fertilizers, and wheat and bread production.
One participant, Ahmad sums up the project, "we're giving back to nature, re-balancing the ecosystem."
Dreaming of green fields
Amel capitalised on local ambitions to return the Bekaa Valley to its roots as Lebanon's bread basket — or perhaps bean basket — hampered by limited local knowledge on how to utilise best the fertile land. With a lack of Arabic language text books on sustainable agriculture, local experts were sourced to develop text books on 13 topics which guide the six week courses.
Over cups of hot tea, Fatmeh explained her reason for enrolling, "there aren't many opportunities for women to leave the Syrian refugee settlements, but this is one that everyone supports." She's originally from Syria's Idlib, and now lives in one of the Bekaa's hundreds of informal tented settlements. "Our shawish (community leader) wasn't keen at first, but now he's proud I'm coming back to the settlement each day with tomato seeds to plant for all the neighbours."
Inside the farm's main building, topped with solar panels that supply power to the machinery, one trainer named Walid showed me the impressive seed bank. "We have 350 vegetable seeds and 40 varieties of wheat," he explained. They have been carefully sourced from Ethiopia, Iraq, Jordan, Palestine and Syria all for cultivation on the farm and redistribution among participants to plant either at home for Lebanese or within their settlements for Syrians.
Giving back to nature
WFP knows that food insecurity is highest in the most fragile and degraded environments, prone to natural disasters and exposed to recurrent shocks and crises. In these landscapes, scarce in water and biodiversity, live some of the world's most vulnerable people.
In Lebanon's case, up to 1.5 million Syrians have crossed the border seeking safety. Host communities in rural areas particularly like the Bekaa are impacted by the crisis and they too are often reliant on meager resources and lack access to diversified diets. These marginalised and vulnerable communities have few opportunities to improve their health, education, economic growth, or development in the broadest sense. That is where WFP's livelihoods programmes come into their element.
Cash and crops
In exchange for participation in any of WFP's 350 livelihood programmes across Lebanon, participants are paid with cash to buy food. But it is the skills that they learn along the way that WFP is keen on cultivating, creating new livelihood opportunities. As participant Hassan explained it, "I haven't got much cash but now I'm bartering with my home-grown produce."
"I have 300,000 sq metres of land which is expensive to run. But now I've gone organic and I'm saving enough to buy more tools….organic fertilizer costs me nothing."
Only a few weeks into the course, participants are already bearing fruit of their classes. Lebanese farmer Ali explained the merits of the fertilizer workshop. "I have 300,000 sq metres of land which is expensive to run. But now I've gone organic and I'm saving enough to buy more tools. Non-organic fertilizer is $40 a kilo. Organic fertilizer costs me nothing."
The rainfall continued throughout my visit, but barely dampened spirits. Outside, a class on tree grafting continued. Eyes focused on Walid's precise cuts in the branch of a tree. After each daily theoretical and practical sessions, participants are free to continue learning on the farm's grounds at their leisure with experts like Walid on hand if needed. Most however opt to pick up their tools, bottles of hand-made pesticide and seeds and head home though tend to their own patches.
Fatmeh told me that when she gets home, she often calls her brother in Syria. "He works in agriculture and I'm giving him tips by phone. It's my dream to go back one day and see his green fields."
Developing a sustainable variety of crops is one of the steps that WFP has committed to on its journey to a #ZeroHunger world by 2030. Boosting the crop diversity needed to provide communities with the nutrients required for healthy lifestyles, begins with education on farms like this.
Read more about WFP's work in Lebanon.
UN entities involved in this initiative
Other entities involved in this initiative
BMZ
Ministry for Economic Cooperation and Development