Story
Faster Sirens Form Closer Solutions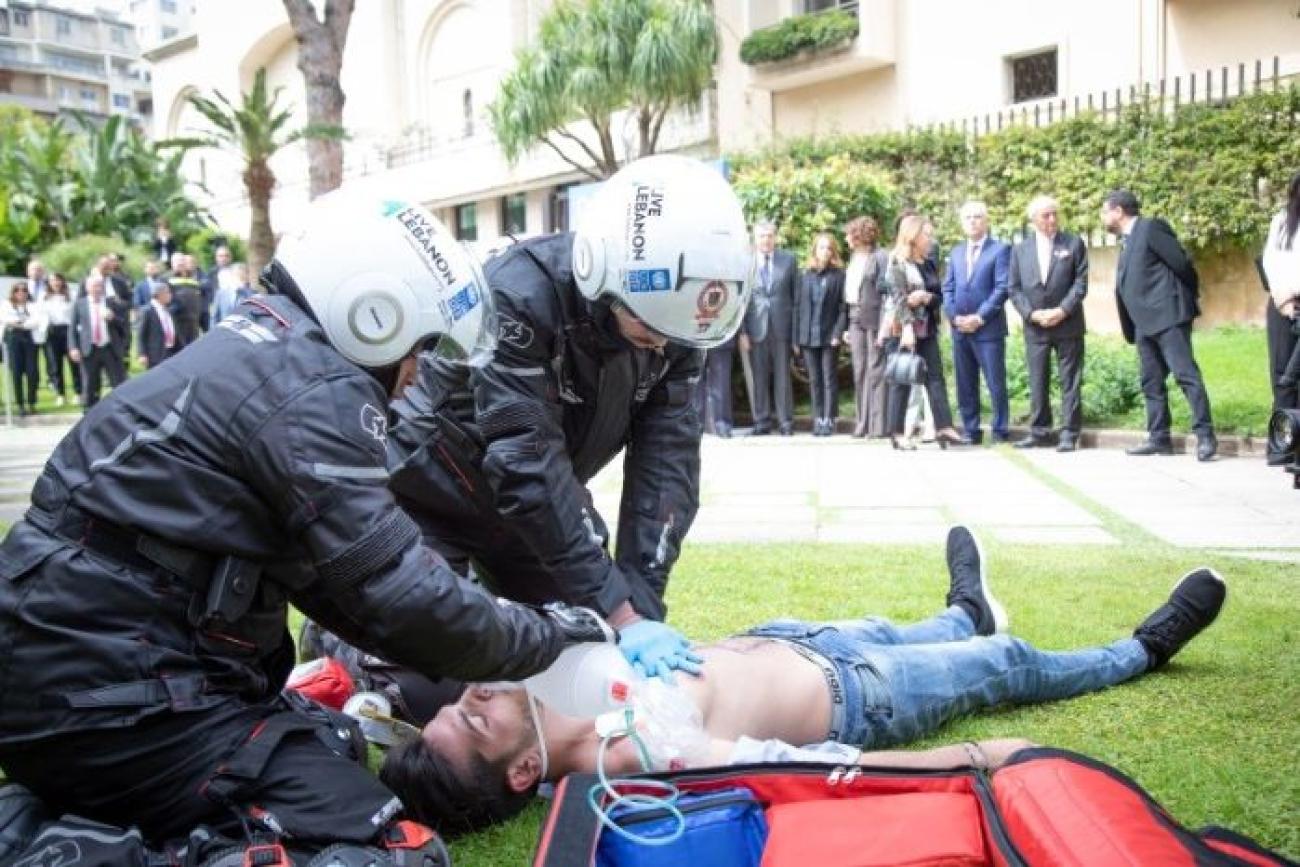 UNDP works with with the Ministry of Interior & Municipalities, Civil Defense, Bank Audi, and LBCI TV Champs Fund to ensure swifter mobility for sirens.
Hassan el-Hage was an intern at UNDP. At 15 years old, his brother fell in the middle of a soccer game undiagnosed; an ambulance was called and waited for, however it was too late. Hassan lost his brother due to the inability of emergency responses to get on time due to the problem Hassan blatantly defines, "the traffic". He held this as an incentive to help Lebanon avoid the avoidable "to give First Aid services in the fastest way possible". From there, he saw the "availability of motorcycles on the streets of Lebanon," linked them to First Aid, and put forth a proposal to submit to our proudly standing offices.
On a fine 24th of April 2019, the launching of the first Moto-Ambulance took place. In partnership with the Ministry of Interior and Municipalities, Civil Defense, Bank Audi, LBCI TV Champs Fund, through the UNDP Live Lebanon Initiative, we saw an idea that bounced off from within our walls, grow to become reality.
In the launching, Samir Hanna, Chairman and Chief Executive officer of the Bank Audi Group, ecstatic with this new initiative ended his speech by stating his "distress[ed] to see Bank Audi contribute to only 10 motorcycles," and "comit[s] that bank Audi will fund 50 motorcycles to be used as fast acting ambulances." He then concluded that he "welcome[s] the future in good hopes. General Raymond Khattar, the Director General of the Lebanese Civil Defense, continued by stressing on the challenge ambulances face in the deadlocked traffic, looked forward for this initiative, and "see[s] that the next step should be making sure this initiative reaches all Lebanese cities." Mrs. Celine Moyroud, UNDPs Resident Representative showed how UNDP is glad to be working with Civil defense Paramedics, thanking them for their hard work. Furthermore she reassured the improvement of fast-acting response to emergencies. Minister of Interior and Municipalities' Rayya Haffar el Hassan, stated that this launching is a great initiative, however does not rule out the reality of poor traffic organization, however concluded with words that rung in all of our ears, "this will definitely contribute to saving a lot of lives."
It is undeniable that one of the most urgent obstacles that Lebanon and its ability to achieve the Sustainable Development Goals faces. Lebanon's roads, highways and thoroughfares see 1,800,000 officially registered vehicles, which is one of the highest rates in the world relative to population. Another factor is the fragile public transportation system which is unorganized, and inaccessible. This posed a deadlock situation on the Lebanese streets. From there this initiative took public ground, working around the problem.
"I am proud of three things," echoed the words of Dr. Mona Osman el Hage, founder of the Champs Fund, and Hassan's mother. " I am proud because my son who was interning at UNDP, came up with the idea, proud that we are part of this plan to help people avoid what my other son didn't have a chance to, and proud for working with UNDP, and having a supportive institution follow with this objective." The Moto-Ambulance in its essence is a beacon of hope for emergency responses. "Every 1 minute is a 10% additional risk to survival," continued Dr. Mona. She spoke of how this initiative holds in it the core themes of progressive and adaptable solutions, concluding with "Thank you UNDP."
UNDP takes pride in not only partnering for better service mechanisms, but also planting the seeds, and reaping the crops of from within. Working on proposals that boost the local ground reiterates the true definition of Development that the UNDP uses as a rule book, a multidimensional undertaking that improves the quality of life. Adaptability through technology once again proved its efficiency towards achieving the 2030 Sustainable Development agenda.
UN entities involved in this initiative
UNDP
United Nations Development Programme