31 December 2019 | 10:00 PM - 27 December 2021 | 9:59 PM
Together let's continue to "Take A Step" towards the SDGs in Lebanon
The UN Communication Group in Lebanon launched in Jan. 2020 Phase II of the #TakeAStep campaign to raise awareness about the SDGs and the UN work in Lebanon. Using various communication tools, the campaign aims to create behavioral change in people's habits and actions towards achieving the SDGs.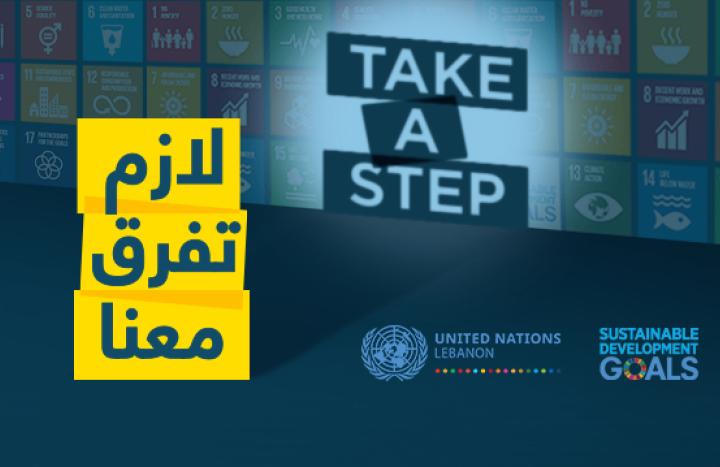 UN entities involved in this initiative
FAO, ILO, IOM, OCHA, OHCHR, RCO, UN Women, UN-Habitat, UNESCO, UNFPA, UNHCR, UNIC, UNIDO, UNIFIL, UNRWA, UNSCOL, WFP, WHO
Sustainable Development Goals
No Poverty
Zero Hunger
Good Health and Well-being
Quality Education
Gender Equality
Clean Water and Sanitation
Affordable and Clean Energy
Decent Work and Economic Growth
Industry, Innovation and Infrastructure
Reduced Inequalities
Sustainable Cities and Communities
Responsible Consumption and Production
Climate Action
Life Below Water
Life on Land
Peace, Justice and Strong Institutions
Partnerships for the Goals
Contact information
daou@un.org
Location
Beirut
Riad El-Solh Street
Across Lebanon
Lebanon
31 December 2019 | 10:00 PM - 27 December 2021 | 9:59 PM
About the initiative
As part of our continuous efforts to make the world a better and fairer place for all, the United Nations in Lebanon continued its advocacy work on the Sustainable Development Goals (SDGs) through 'Take a Step' communication campaign that helps the public at large better understand the SDGs and moves them to care and take action on issues pertinent to Lebanon's sustainable development.
'Take a step' campaign started in 2018 (visit this page to check phase I of the campaign) and continued in 2020 as part of phase II. #TakeAStep is a national call for action inciting people in Lebanon to make a positive change in their own communities and be involved, alongside the UN, in local development initiatives and in simple actions and acts of kindness that can make significant difference on people's lives, be it at the individual, community, or national level.
Together, let's continue to take a step for a better future in Lebanon and the world!
UN75 SURVEY CAMPAIGN
To mark its 75th anniversary, the United Nations launched at the beginning of 2020 its largest and furthest-reaching global conversation under #UN75, aiming to engage millions of people from across the globe to share ideas, discuss initiatives and take collective action on how to best build a better future.
At the outset of the campaign, the world was faced with the COVID19 pandemic which served as a stark reminder of the need for cooperation across borders, sectors and generations. It also highlighted, now more than ever, the need for different groups and stakeholders to come together in unique ways to explore new ideas, actions, fears and hopes that can transform the post-COVID19 future for the better.
In order to adapt to the context, the UN in Lebanon galvanized its efforts to engage all segments of the Lebanese society to take part in the global online conversation (www.un75.online) to express their views on the future they want. A total of 7,600 persons from Lebanon took part in the UN75 survey and their views fed into the UN Secretary-General's report to the 75th session of the General Assembly and in the UN75 final report titled "Shaping our Future Together".
Take the one-minute survey from the comfort of your couch and remember that building a better future starts with each person's action. #UN75Survey #ShapingOurFuture #Globalgoals #TheLebanonWeWant.

In the midst of destruction, we created a space for the Lebanese people to speak up, to share their frustration & pain but also their hopes and aspirations for a better future.
LET'S TALK HOPE
On the occasion of its 75th anniversary, the United Nations chose to take a step closer to the Lebanese youth and give them the opportunity to share their dreams and hopes for a better future.
How? Through a series of open dialogues and online conversations.
These dialogues drew out not only the fears and concerns of the youth in Lebanon but their aspirations, ideas and plans to build a better community for everyone. Below are some of their demands and aspirations that were reflected in a series of posts during the two-week "Let's Talk Hope" campaign.

The UN remains committed to supporting Lebanon and its people, irrespective of their geographical, socio-economic and ethnic differences. People in underprivileged areas in Lebanon with limited internet access voiced their concerns, aspirations and dreams through the magic of a pen. Check them out in this video:
UN EVOLUTION IN LEBANON
75 years of strong presence in #Lebanon yet more to come! Discover the evolution of the UN in Lebanon in this short video and learn how 75 years of partnership between Lebanon & the United Nations are helping shape a promising journey in Building Back a Better Lebanon.
Check out this short video recounting the story of a strong and productive partnership between the UN and Lebanon ever since its inception in 1945.
TOMORROW IS BETTER
"Hope is being able to see that there is light despite all of the darkness." —Desmund Tutu
The year 2020 took a heavy toll on Lebanon through a series of hardships that left its people in anguish. For that reason, towards the end of December 2020, a group of children came together to sing a song of hope, ambition and determination; with a common goal to kick start the new year 2021 on some positive notes and to show the world that together we can make a difference.
With heart-felt lyrics and a touching performance, these children will undoubtedly put a big smile on everybody's face and leave a ray of hope in people's mind and soul.
#BoukraAhla #TogetherWeMakeADifference #TheLebanonWeWant