---
Start: 2020-12-04
End: 2022-06-30
Entities
0
Implementing Partners
3
Investing Partners
0
CONTEXT
The Lebanon Reform, Recovery and Reconstruction Framework (3RF) is part of a comprehensive response to the massive explosion on the Port of Beirut on August 4, 2020. It is a people-centered recovery and reconstruction framework focusing on a period of 18 months that will bridge the immediate humanitarian response and the medium-term recovery and reconstruction efforts to put Lebanon on a path of sustainable development.
The 3RF aims to help Lebanon achieve three central goals in response to the Beirut port explosion. First, a people-centered recovery that returns sustainable livelihoods to the affected population; improves social justice for all, including women, the poor, and other vulnerable groups; and ensures participatory decision making. Second, the reconstruction of critical assets, services, and infrastructure that provides equal access for all to quality basic services and enables sustainable economic recovery. Third, the implementation of reform to support reconstruction and to help restore people's trust in governmental institutions by improving governance.
To promote a different way of working, the 3RF is designed as a collaborative process that is based on the participation of the government, civil society, the private sector as well as development partners. It is also guided by the overarching principles of transparency, accountability, and inclusion.

OBJECTIVES & TRACKS
The 3RF pursues two tracks in parallel:
A people-centered recovery track (Track 1), focusing on essential actions, such as policy measures, investments, and institutional strengthening, to address urgent needs of the most vulnerable populations and small businesses affected by the explosion. This people-centered support will largely rely on receiving adequate international grant financing, and on clear progress on immediate policy action to facilitate recovery, such as the adoption of appropriate actions plans and institutional measures.
A reform and reconstruction track (Track 2), focusing on critical reforms to address governance and recovery challenges in Lebanon as well as investments that focus on the reconstruction of critical assets, services, and infrastructure. Progress on governance and socioeconomic reforms are prerequisites for mobilizing international support for reconstruction beyond the recovery track, and for unlocking new sources of public and private finance.
The 3RF is structured around four strategic pillars:
Improving governance and accountability;
Jobs and opportunities;
Social protection, inclusion, and culture;
Improving services and infrastructure.
Each pillar identifies a set of strategic objectives and priority areas across both the recovery track and the reform and reconstruction track.
The 3RF envisages a two-phase financing strategy for recovery and reconstruction, building on ongoing humanitarian assistance and the in-kind support mobilized by the Lebanese people. In the short-term, international grant financing will be required to kick-start recovery and support urgent needs while advancing in parallel on necessary reforms. Once progress has been made on critical reforms and macroeconomic stabilization, concessional loans and private finance can support reconstruction and help set Lebanon on a path towards stability, growth, and sustainable development.
To support the recovery track and prepare for reconstruction, a Financing Facility will be set up to pool and align grant financing for the 3RF, under the strategic guidance of the 3RF governance arrangements. This will strengthen coherence and coordination. The fund will channel support directly to Lebanese people and businesses that have been impacted by the explosion using a variety of flexible, nongovernmental implementation modalities combined with strong fiduciary monitoring and oversight.
The 3RF was launched on 4 December 2020 in a Press Conference co-chaired by the three UN, EU and WB principals, exactly 4 months after the devastating Port explosion. Check the Press Release here.
Collaborative Process
To promote a different way of working, the 3RF is designed as a collaborative process that brings all actors together and ensures strong coordination between the government - including inter-ministerial coordination – civil society, the private sector as well as development and international partners.
The government takes responsibility for ensuring recovery and reconstruction, in close collaboration with development partners, including the strong engagement of civil society, and through dedicated institutional, financing and monitoring arrangements. The implementation of the 3RF can generate new approaches, lessons and experiences that can be relevant beyond the Port of Beirut explosion.
The development of the 3RF was undertaken in close consultation with civil society organizations that play a significant role in its implementation at different levels: i) in the Consultative Group entrusted with strategic guidance, policy dialogue, and aid coordination; ii) in the Independent Oversight Body responsible for ensuring strong monitoring, transparency, and mutual accountability; and iii) as implementers of the 3RF programs.
A 3RF Technical Team and Secretariat ensures day-to-day follow-up, technical coordination, and monitoring of aid effectiveness, progress, and oversight arrangements.
The 3RF Consultative Group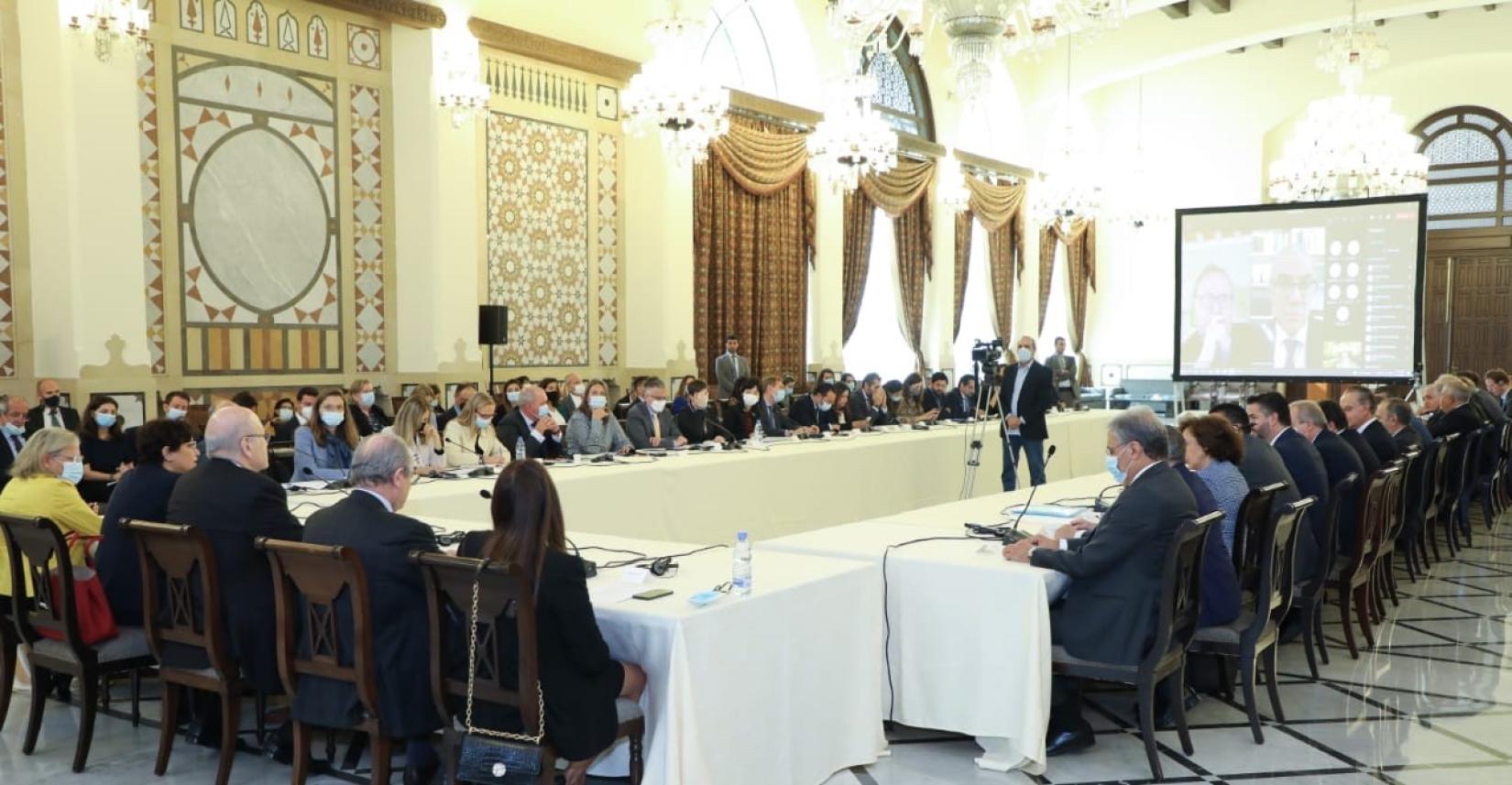 The 3RF Consultative Group comprises representatives of the Government of Lebanon, donors, civil society organizations, and the private sector. It provides strategic guidance to the 3RF implementation.
The Consultative Group ensures balanced representation between international and Lebanese actors, enables coordination across actors and financial instruments, and facilitates linkages between the political context and the humanitarian and development activities. The Consultative Group Membership in the Consultative Group is on a pro-bono basis.
Representation of the Government/State (9 seats):
President Office's representative
Prime Minister or his designate (Co-Chair)
Deputy Prime Minister
Three Representatives from line Ministries: Ministries of Finance; Economy and Trade; Social Affairs.
Beirut Governorate's representative
Two Parliament representatives: Chairman of Justice and Administration Committee, and Chairman of Budget and Finance Committee
Representation of the International Community (10 seats):
United Nations Resident and Humanitarian Coordinator (Co-Chair)
European Union (Co-Chair)
World Bank Group
Representatives of the donor community and International Financing Institutions
Representation of Civil Society Organizations and private sector (9 seats)
Three Representatives of International Non-Governmental Organizations and/or Non-Governmental Organizations (preferably umbrella organizations)
Four local civil society representatives (including citizen/academic initiatives, think tanks, advocacy organizations, community-based or neighborhood organizations)
Two Representatives of business associations/professional associations
The Consultative Group may invite other entities, including line ministries, Civil Society Organizations, and/or international organizations, as observers or experts in specific discussions.
The selection of Civil Society Organizations and development partners was facilitated by the 3RF Secretariat and Technical Team based on a Call for Expressions of Interest that gave due consideration to women's representation and meaningful participation.
The Consultative Group members rotate on an annual basis (with the first term ending on March 31, 2022), as stated in the Expression of Interest published in January 2021. Civil Society Organizations were divided into two rotation groups: nine of them were chosen for 2021, and nine others for 2022. Two Civil Society Organizations representing women's interests will be members in both 2021 and 2022.
True to its promise, the Consultative Group has been meeting on a quarterly basis to discuss progress and future steps. To find out more about the Consultative Group's meetings, roles and Civil Society representatives, check out the below documents and Co-Chairs' statements emanating from the various Consultative Group Meetings: 
The 3RF Independent Oversight Body 
The inclusion of civil society in the governance and implementation of the 3RF is one of its core principles. Civil society is therefore represented in the 3RF Consultative Group, the Lebanon Financing Facility's Partnership Council and the Independent Oversight Body.
Comprised of representatives of the civil society and other institutions, the Independent Oversight Body serves as an independent mechanism that oversees 3RF implementation and holds its stakeholders (i.e., government, civil society, development partners, and implementing organizations) accountable for the overall progress. 
Functions
The Independent Oversight Body's functions are to:
(i) Deliver credible, non-partisan descriptions of the 3RF processes and assessments of its guiding principles, in particular: (a) inclusion and leaving no one behind, (b) transparency, accountability and anti-corruption, and (c) two-way communication and community-based outreach;
(ii) Conduct independent review and validation of the 3RF's implementation progress by issuing regular opinions, recommendations or reports notably on progress in the implementation of policy actions and reforms;
(iii) Monitor the implementation of the Consultative Group's decisions and follow up actions;
(iv) Provide policy recommendations to the 3RF Consultative Group, based on findings from civil society, and on inputs from the 3RF Secretariat, including audit reports;
(v) Advise on and provide recommendations on the design and terms of reference of mid-term reviews and final evaluations of the 3RF and the Lebanon Financing Facility, and contribute to these processes;
(vi) Provide technical recommendations to the 3RF Secretariat on the operationalization of activities related to communications, citizen engagement, community monitoring and transparency (including potential corruption risks) and suggest priority areas for action. For example, the Independent Oversight Body could recommend that Focus Group Discussions (FGDs) be conducted for a specific sector, or a social audit for a project. It could also recommend that an entity be audited, or that targeted/additional communication and outreach may be required to better reach Lebanese citizens;
(vii) Encourage and promote the use of 3RF's citizen engagement, complaints' handling and whistleblower mechanisms;
(viii) Review the Grievance Redress Mechanism's (GRM) data (e.g., numbers, uptake and resolution trends) and actions, including the resolution of complaints and the overall quality of compensations;
(ix) Communicate decisions, findings, achievements, and concerns to the wider public by sharing regular and timely information on the 3RF including progress assessments, findings, recommendations, signed Conflict of Interest disclosures, etc.
Membership
The Independent Oversight Body comprises six members with diverse expertise on the 3RF pillars, in line with 3RF principles of gender parity and inclusiveness and diversity.
Members of the Independent Oversight Body will rotate on a yearly basis with the rotation of half of its members to ensure overlap between one Board and another.
Membership in the Independent Oversight Body will be on a pro bono basis.
Members of the Independent Oversight Body were selected based on an open, transparent process, taking into account the expertise, capacity and non-partisanship status of both the representatives and the nominating Civil Society Organizations following a Call for Expression of Interest launched on April 28, 2021.
Kulluna Irada is an advocacy group committed to political reform in Lebanon. It is engaged in defining the foundations of a modern, sustainable and just state, and in uniting local and international actors around this vision to create momentum for change. It pairs extensive policy expertise (e.g. on issues of economic and financial reforms, transparency and accountability, judicial reforms, electricity sector and the oil & gas sector), with civil society engagement and advocacy tools. Kulluna Irada is represented by Managing Director Diana Menhem.
The Lebanese Transparency Association – No Corruption (LTA) advocates for reform by focusing on systemic improvement and by building coalitions with other anti-corruption stakeholders, including the government, parliamentarians, the private sector, media institutions, the international community and civil society organizations. It is the Lebanese chapter of Transparency International (TI). The Lebanese Transparency Association – No Corruption is represented by Executive Director Julien Courson.
Maharat Foundation is a women-led Beirut based organization acting as a catalyst, defending and advancing the development of democratic societies governed by the values of freedom of expression, access to information and respect for human rights. Maharat Foundation operates Maharat News, an independent, online, multimedia platform, providing evidence-based information on issues of accountability. Maharat's mission is to defend, catalyze, and advance democratic values of freedom of expression, access to information, and respect for human rights. Maharat Foundation is represented by Founder and Executive Director, Roula Mikael.
The 3RF Financing 
The priority needs of the 3RF are estimated at $584 million for its people-centered recovery track, and at $2 billion for its reform and reconstruction track.
The widespread damages and large reconstruction needs resulting from the Port of Beirut explosion require mobilizing both public and private resources, including public-private partnerships. However, the government's collapsed revenues and inability to borrow significantly reduce its capacity to finance recovery and reconstruction in the immediate and short term. Moreover, the financial and banking crisis, accompanied by high levels of political instability and social unrest, limits the potential for mobilizing private sector financing. To provide immediate support for socioeconomic recovery, grant financing has therefore been required.
The 3RF envisages a two-phase financing strategy for recovery and reconstruction. In the short term, international grant financing was required to kick-start recovery and support urgent needs. Once progress is made on key reforms and macroeconomic stabilization, concessional loans and private finance can support reconstruction and help set Lebanon back on a path toward stability, growth, and sustainable development.
Phase One: People-Centered Recovery
Financing for immediate people-centered recovery priorities has been largely reliant on support from the international donor community. Grant financing provided an indispensable source of funding for recovery and small-scale reconstruction. While grant financing is insufficient for large-scale reconstruction projects, it has a crucial role in jump-starting programs that address the needs of the most vulnerable groups and helping them cope with the multiple shocks they have been exposed to.
Moreover, the Lebanon Financing Facility was set up to pool and align grant financing under the strategic guidance of the 3RF. It will strengthen financial coherence and coordination across sectors and institutions; and will channel donor grant resources to people and businesses impacted by the explosion.
However, this financing strategy recognizes that there are other ways of delivering international development finance. A share of international aid to Lebanon and the 3RF will likely be delivered through existing programs, budget allocations, and bilateral grants that target specific 3RF sectors. In some cases, the resources of previously approved financing envelopes will be reoriented toward post blast-response using existing implementation channels, including the United Nations, international Non-Governmental Organizations, and local actors.
Flexible financing for a people-centered recovery is essential to adapt to the evolving environment in Lebanon. In addition, the efficiency and transparency of these financial flows will be critical. All financing will need to be sufficiently risk-tolerant in this difficult operating environment, as well as timely, so that essential rehabilitation and recovery efforts are put in place.
Phase Two: Reform and Reconstruction
Reconstruction and longer-term assistance depends on Lebanon's commitment to a reform agenda. Until the government is able to institute critical macroeconomic and governance reforms, Lebanon will not be able to access financing at a scale sufficient enough to address its pressing needs for reconstruction of public infrastructure. Moreover, progress on an International Monetary Fund (IMF) program that would mobilize the urgently needed external financing remains indispensable for the 3RF reform and reconstruction track.
Once reforms are in motion and an authorizing environment is in place, international financing could also be provided through concessional loans and guarantees.
In addition, private sector will need to play an increasingly important role in the recovery of key productive sectors (such as industry, commerce, and services); as well as in some of the reconstruction efforts, notably high-value infrastructure such as the port. The 3RF financing strategy will therefore need to explore opportunities to help de-risk larger private sector-led projects.
Over time, the Government of Lebanon will need to take responsibility for increasing public investments for reconstruction via appropriate budget allocations. It will also need to ensure that this money is spent in ways that achieve the maximum possible impact, in full transparency and accountability, in order to restore trust between citizens and the state. Programs under the 3RF and beyond will be designed with this objective in mind, to help ensure the financial sustainability of the country.
 Learn more about the Lebanon Financing Facility on the World Bank's page here. 
---
UN: United Nations
EC: European Commission
World Bank: World Bank
Goals we are supporting through this initiative
Background Documents