Organizers
RCO, UN, UNDP, UNEP, UNIC
Sustainable Development Goals
Climate Action
Partnerships for the Goals
Contact information
rana.moughabghab@undp.org
26 October 2021 | 12:00pm - 1:00pm
How Does Lebanon's Climate Commitment Contribute to its Sustainable Recovery?
On Tuesday 26 October 2021, the UN in Lebanon is holding a panel discussion over Zoom at 3:00 P.M. Beirut time (GMT 3+) and will be also live streamed on UN Lebanon's Facebook page. The event will discuss with prominent speakers and specialists how Lebanon's climate commitment can contribute to its sustainable recovery. 

26 October 2021 | 12:00pm - 1:00pm
About the event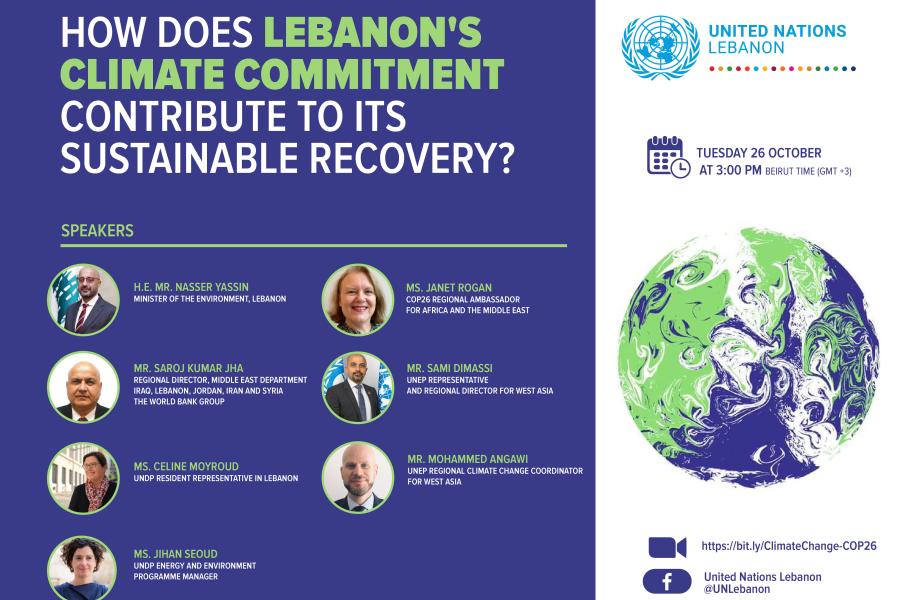 CONTEXT
Lebanon's current situation is challenging, as it is facing an unprecedented economic, financial, monetary, and banking crisis. This deteriorating situation calls for swift and transformative reforms in order to restore economic health and improve quality of life, in a sustainable fashion. To ensure this sustainability, all reforms need to be shaped with the aim to achieve a low-emission and resilient green economy.
To that end, in March 2021, Lebanon submitted to the United Nations Framework Convention on Climate Change (UNFCCC) its updated Nationally Determined Contribution (NDC) which gives a clear way forward in reducing its national GHG emissions, increasing its resilience, while contributing to economic growth and sustainable development. All actions under the NDC are aligned with the economic recovery ethe concepts of Building Back Better and Leaving No One Behind.
Lebanon has made this ambitious commitment amid the significant gap between the aggregate effect of GHG emission reductions announced in the 2015 NDCs and the emissions pathway consistent with the Paris Agreement goal.
DISCUSSION
The panel discussion will focus on the following:
Showcasing Lebanon's NDC mitigation targets for 2030, as well as its adaptation priorities
Presenting the sustainable development and green recovery co-benefits of climate action in Lebanon mandated under the updated NDC
Highlighting the strong benefits of switching to renewable energy as an economic reform
Highlighting the importance of the financial climate and measures in ensuring a green recovery in Lebanon
Proposing the needed enabling activities to enhance Lebanon's readiness.
Get more information on Lebanon's Climate Proofing and the Climate Promise