Press Release
Beirut Municipality launches Policy and Reporting Mechanism against Sexual Exploitation, Abuse and Harassment in partnership with UNICEF
19 September 2022
BEIRUT, 19 Sept 2022 ­– The Municipality of Beirut launched today a Protection from Sexual Exploitation, Abuse and Harassment (PSEAH) policy and reporting mechanism to address, prevent and respond to sexual exploitation or harassment within the Municipality of Beirut. The policy was designed in partnership with UNICEF following a comprehensive review of international guidelines and relevant aspects of the Lebanese legal framework. 
The policy was developed through a participatory approach with more than 30 stakeholders to understand the structure, functioning and culture of the Municipality of Beirut; assist in defining the implementation modalities and identify the gaps. Stakeholders included the Governor of Beirut Judge Marwan Abboud, the National Commission for Lebanese Women, legal and research institutions, civil society organizations, independent lawyers, and elected members and executive staff of the municipality. 
The Governor of Beirut Judge Marwan Abboud said: "The municipality of Beirut commits to successfully implement this policy and mechanism and considers this achievement as an opportunity for other municipalities, regardless of their administrative structures, sizes, or departments, to benefit from the policy and to harmonize its reporting mechanism. We recommend the Ministry of Interior and Municipalities to also sponsor and adopt the policy, bringing together all decentralized administrations into a participatory, unified and inclusive vision."
"Upholding safeguarding standards is a collective responsibility. While many efforts have been made to develop policies on PSEAH, the Municipality of Beirut is the first public administration entity in Lebanon to develop a practical reporting mechanism. This is an initiative that can be scaled up to other governmental bodies and represents an opportunity to support the amendment of Law 205 to preserve people's dignity," said Edouard Beigbeder, UN Resident Coordinator a.i. in Lebanon.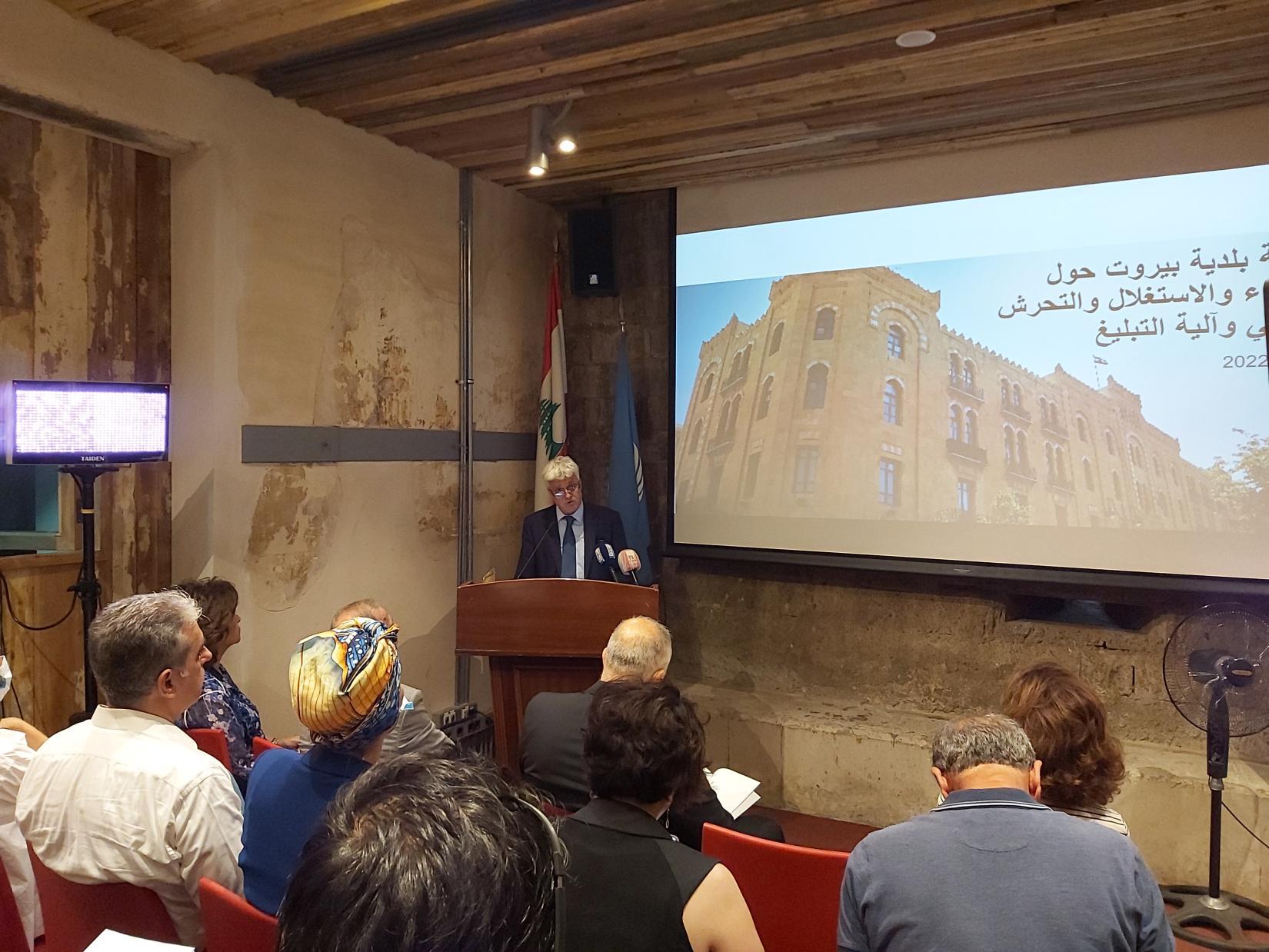 The Beirut Municipality has committed to progress with the policy implementation, including the creation of intake channels for the reporting mechanism with community members and Municipality employees and related personnel. Continued collaboration is also planned to enhance learning, harmonize approaches and design joint initiatives.
END
About UNICEF
Working in Lebanon for over 70 years, UNICEF works in some of the world's toughest places, to reach the world's most disadvantaged children. Across more than 190 countries and territories, we work for every child, everywhere, to build a better world for everyone.
For more information about UNICEF Lebanon and our work for children, visit www.unicef.org/lebanon/
Follow UNICEF Lebanon on Twitter and Facebook
For more information: 
Blanche Baz, bbaz@unicef.org,  Tel : +961 3331874
Maya Outayek, moutayek@unicef.org Tel: +961 70190634
UN entities involved in this initiative
UNICEF
United Nations Children's Fund