Press Release
On World Water Day, the European Union and UNICEF reaffirm commitment to support sustainable water management in Lebanon through development projects
22 March 2023
The project has been developed to provide improved and sustainable water services to more than half a million people in Beirut through a system relying on gravity and pumping.
Amid the continuous crisis affecting the water infrastructure, access to water is still one of the biggest challenges, putting the health of millions of people, particularly children, at risk.
Through its long-standing partnership with UNICEF, the European Union has been one of the strongest supporters of Lebanon's water sector amid the continuous crisis. Since November 2018 it has so far contributed EUR130 million to develop and implement  water projects and strengthen national capacity of the water establishments to ensure public access to water resources now and for the future.
"Today, on World Water Day we invite every actor to consider public water and wastewater services as an urgent national priority", said European Union Ambassador to Lebanon Ralph Tarraf. "Exiting the crisis in the sector and achieving a sustainable solution while providing citizens with reliable water services should be a collective responsibility, with the Government, the water establishments, and citizens each having roles and responsibilities."
"We are proud of our long-standing partnership with the EU to improve access to water in Lebanon especially during these challenging times where millions of people are still affected by the limited availability of clean water," said Edouard Beigbeder, UNICEF Representative in Lebanon. "We should not forget, especially on World Water Day, that access to water is a fundamental right. Our priority remains strengthening the water establishments capacity to ensure equitable and sustainable provision of water to reduce the spread of infections and save lives".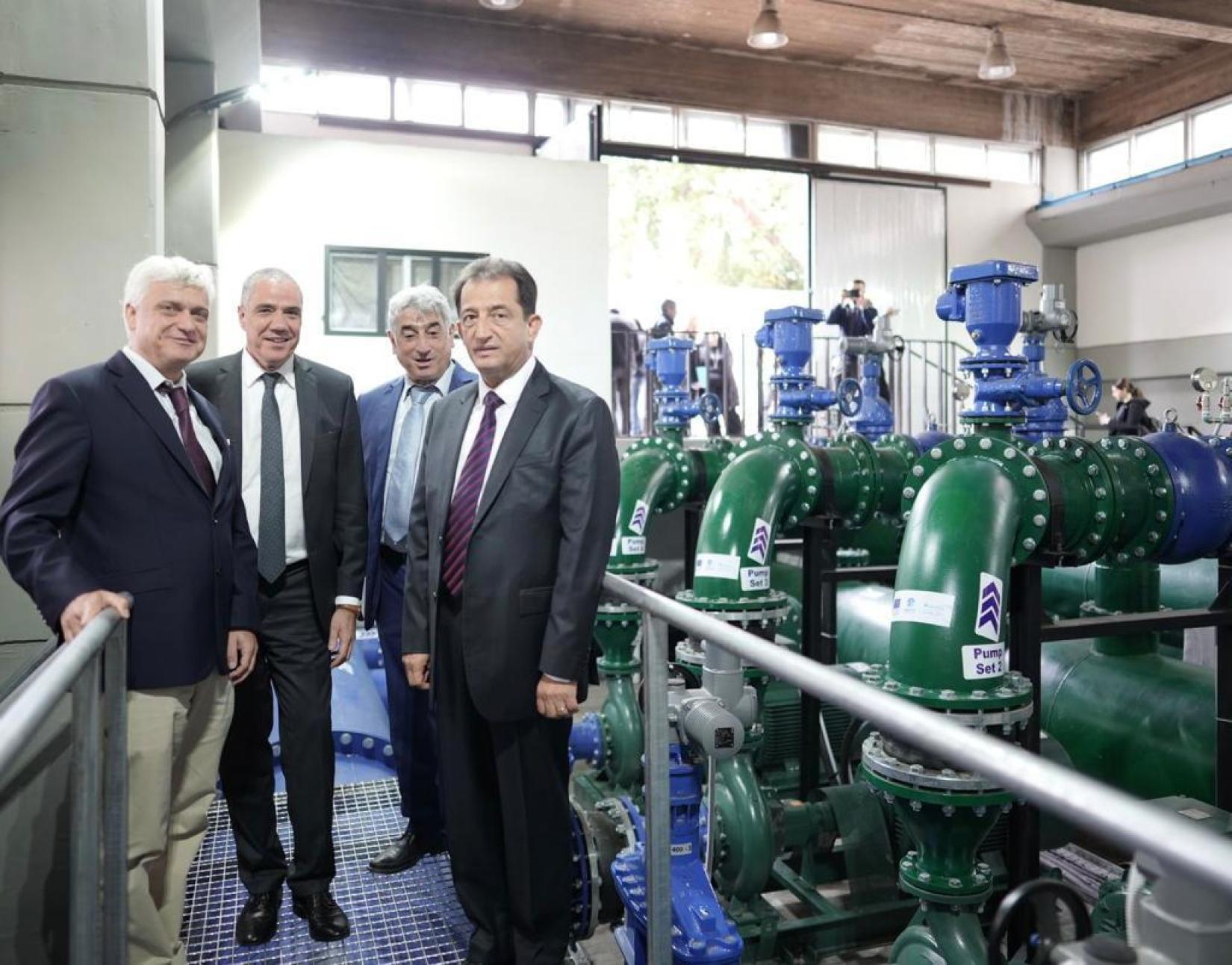 Beirut & Mount Lebanon Water Establishment director general,  Jean Gibran said: "The EBML commends international organizations' efforts to rescue the water sector and ensure its continuity, especially UNICEF and The European Union, who supported, since the beginning of the Lebanese economic crisis, in reparing and maintaining the functioning of all pumping stations in addition to rehabilitating  some of the most damaged, which ensured the suistainability of access to water to all citizens" ."Water is life, it is the life of every human being. Your support today has contributed to the revival of this sector, without it, we wouldn't have been celebrating world water day today" he concluded.
Sustainable management of water resources requires strong cooperation between all stakeholders beyond the water sector. Investing in safe, sustainable and inclusive access to water is not only a matter of protecting children's health today, but also ensuring a sustainable future for generations to come.
END
About UNICEF
Working in Lebanon for over 70 years, UNICEF works in some of the world's toughest places, to reach the world's most disadvantaged children. Across more than 190 countries and territories, we work for every child, everywhere, to build a better world for everyone
For more information about UNICEF Lebanon and our work for children, visit www.unicef.org/lebanon/  or follow us on Twitter, Facebook, Instagram and YouTube
For more information please contact
Blanche Baz, bbaz@unicef.org +961 3 331 874
Maya Outayek, moutayek@unief.org +96170190634
About the European Union (EU)
The European Union supports Lebanon's stability, independence and sovereignty, its prosperity and democratic order. It strives also to help protect its environment and natural resources by supporting sustainable enterprise and development. The European Union is also committed to the promotion and protection of human rights in Lebanon including defending gender equality, children's rights and freedom of expression. The EU Delegation in Lebanon represents the European Union to the Republic of Lebanon with the objective to maintain and develop mutual beneficial relations. It engages in political, social and economic development activities on behalf of the European Union and based on the most pressing needs of the country of Lebanon.
Learn more on the work of the EU in Lebanon or follow on Twitter, Facebook and Instagram at @EUinLebanon
UN entities involved in this initiative
UNICEF
United Nations Children's Fund
Other entities involved in this initiative