Press Release
As clashes resume in South Lebanon Palestine refugee camp, the ongoing takeover of UNRWA schools threatens children's right to education
08 September 2023
An urgent call to stop the fighting and vacate the schools.
From the United Nations Resident Coordinator and Humanitarian Coordinator for Lebanon, Mr. Imran Riza.
BEIRUT, 8 September 2023 – The continuing clashes in the Ein El-Hilweh Palestine Refugee Camp, along with the ongoing takeover of eight UNRWA schools, are preventing the access of nearly 6,000 children who are about to begin their school year.
Education institutions must be safe and neutral spaces, critical for children's learning, well-being, and growth. The use of armed groups of schools amounts to gross violations of both International Human Rights Law and International Humanitarian Law endangering children's rights to a safe learning environment, and jeopardizing their future and the future of their community.
I urge armed groups to stop the fighting in the camp and vacate these schools immediately. I also call for the facilitation of the work of UNRWA and other humanitarian organisations to provide much-needed protection and assistance to families in need in the camp.
The protection of civilians, including children, and their access to school, safe from all forms of violence and exploitation, is a shared responsibility. All concerned actors must take action to protect civilians, facilitate unhindered humanitarian access, and prevent the use of civilian infrastructure for fighting purposes.    
-ENDs-
For more information, please contact:
UNRWA:  Mr. Fadi Tayyar, Public Information Officer – UNRWA. Email: f.eltayyar@unrwa.org. Phone: +961-70010129
United Nations Resident Coordinator and Humanitarian Coordinator for Lebanon: Ms. Severine Rey, Head of Office - OCHA. E-mail: rey@un.org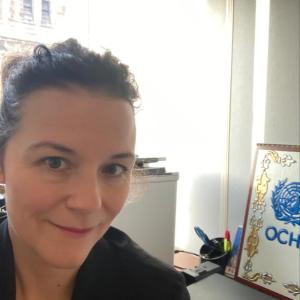 Severine Rey
OCHA
Head of Office
Séverine Rey was initially appointed as OCHA Head of Office in Lebanon in May 2019. She returned to Beirut in October 2022, after 7 months in OCHA Geneva leading the development of a new initiative focused on improving the efficiency and accountability of humanitarian responses. She joined OCHA in New York in 2006. After several years as Desk Officer covering Haiti, Pakistan and Central Asia, she moved to Geneva where she led the Humanitarian Leadership Strengthening Section between 2017 and 2019. Prior to joining OCHA, Severine worked with UNHCR in Chad, Western Sahara and Kosovo. She is an Engineer from the Ecole Centrale de Lyon and has a Master Degree from the College of Europe.
UN entities involved in this initiative
OCHA
United Nations Office for the Coordination of Humanitarian Affairs
RCO
United Nations Resident Coordinator Office
UNRWA
United Nations Relief and Works Agency for Palestine Refugees in the Near East