UN experts in Beirut engage with youth at AUB-USJ Virtual NGO Forum
A two-day Virtual NGO Forum was organized by AUB in collaboration with USJ and UNIC Beirut on the role of youth and NGOs in mobilizing following Beirut Blast.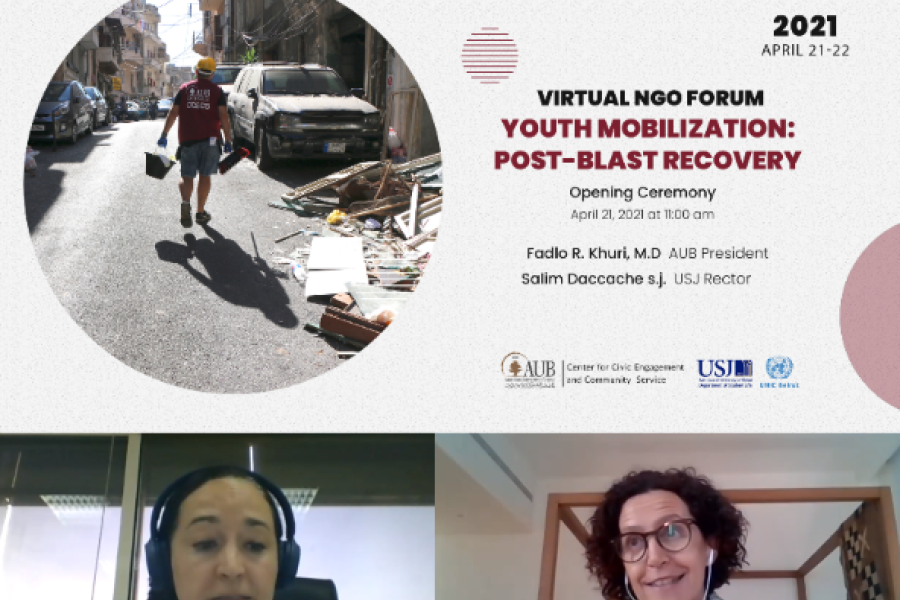 For two days in a row, around 70 youth from universities and NGOs in Lebanon engaged in an active virtual dialogue on the role of youth, civil society organizations and the affected communities in the mobilization following the notorious August 4 2020 explosion in Beirut.
The dialogue was part of a two-day Virtual NGO Forum organized by the American University of Beirut (AUB), in collaboration with St. Joseph's University (USJ) and the UN Information Centre (UNIC) in Beirut. For 6 years, UNIC has collaborated with AUB and later USJ as well, to organize the yearly NGO Fair, which due to the COVID-19 pandemic, was organized in a different format this year.
On 4 August 2020, a large amount of ammonium nitrate stored at the port of Lebanon's Capital, Beirut, exploded, causing at least 215 deaths, 7,500 injuries, and US$15 billion in property damage, and leaving an estimated 300,000 people homeless.
Experts in reconstruction, shelter and livelihoods, mental health and psychosocial support, humanitarian assistance and coordination from the UN and other organizations addressed the youth and reflected on the quick response, coordination, programming and recounted experiences of humanitarian practice. They also offered youth the opportunity to familiarize themselves with the various intervention sectors, organizations' scope of work and explore potential volunteering and internship placements.
UNIC Beirut Director Margo Helou said she is very grateful that AUB and USJ resumed this forum, even if virtually, to provide the youth with opportunities to serve their communities. She commended the youth's remarkable community-based response to the blast that demonstrated solidarity and empathy.
Rabih Shibli, Director of AUB Center for Civic Engagement and Community Service (CCECS) said, "[Our] aim is to highlight the active role that our universities have played, the role of civil society, and the role of the affected communities themselves in response to this very unfortunate, unprecedented, and particular crisis." He thanked "the leaders of both universities who have been outstanding champions for the obligation of higher education to address society's most pressing challenges."
"Following the thorough discussions that took place over the past two days, it is imperative to collaborate and broaden our networks to engage youth in the much needed long recovery process, thus empowering youth to become future change makers in their respective companies," said Lina Abou Farraj – Outreach and Volunteer Manager at AUB CCECS.
OCHA Lebanon Deputy Head of Office Helena Mazarro said: "Immediately after the explosions, a massive mobilization from both the Lebanese civil society and private individuals including through large numbers of young volunteers led to an influx of much needed assistance to the affected population. This was an extraordinary demonstration of solidarity for the Lebanese across the country and beyond."
For her part, Edwina Zoghbi, National Professional Officer at WHO said that it was a pleasure to participate in the event and share the experience of WHO in mental health and psychosocial support and learn more about the initiatives of partners after the Beirut port explosions. "The interaction with youth enriched the discussion and revealed the potential youth have to coordinate responses to crises and make a difference."
Also taking part in the discussion was Chiara Dezzi Bardeschi, Programme Coordinator of Li Beirut initiative at UNESCO who said, "Beirut shows clearly how cities have to be considered as a "cultural construct" where built structures and open urban spaces are closely linked to the social fabric. That being said, the paramount role of Culture for livelihood and social fabric recovery and reconstruction of Beirut is evident, if the recovery and reconstruction efforts want to achieve a resilient and sustainable inclusive society."
Lady Habchy, Project Support Officer with UN Habitat also took part in the dialogue and focused on urban rehabilitation of areas affected by the Beirut blast.
UN entities involved in this initiative
UNIC
United Nations Information Centre
Goals we are supporting through this initiative