Story
Alissar Helps Curb Spread of Cholera with Support of UN in Lebanon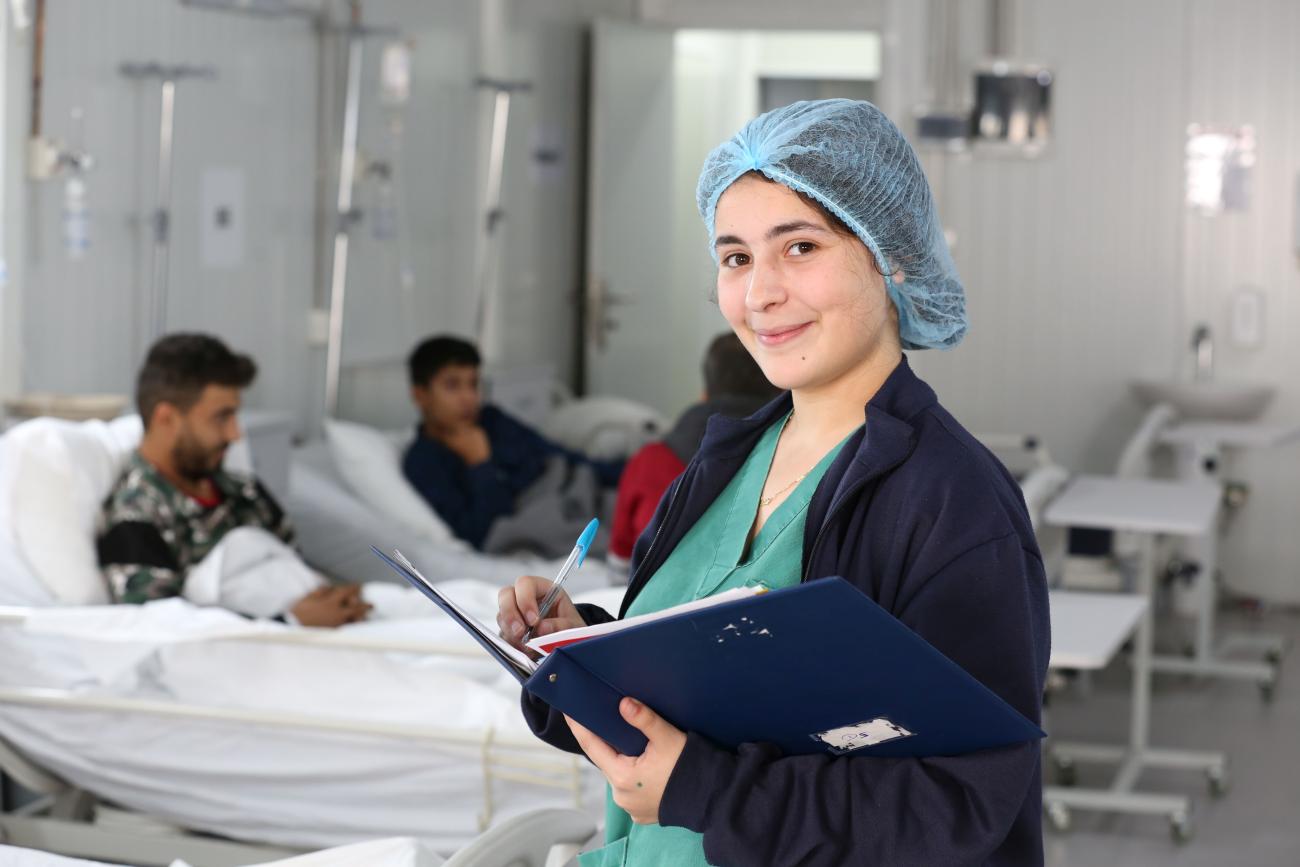 Read the story of Lebanese Alissar who has been contributing to curbing the spread of cholera in Lebanon with the support of the UN in Lebanon.
Since her graduation, Alissar, a 22-year-old nurse, has pulled up her sleeves to join other frontline healthcare workers in the fight against COVID-19 pandemic and now cholera, two viral outbreaks that have stretched the healthcare system in the country. Along with other nurses, doctors, and infectious disease specialists at the Diarrheal Treatment Center (DTC) in Tripoli Governmental Hospital, Alissar is today contributing to curbing the spread of cholera in North Lebanon as the second month of the cholera outbreak unfolds in the country. "I believe that health crises can be an opportunity for personal growth and knowledge enhancement for health workers, and I will always be proud to say that I have worked in the health sector during this phase," Alissar says.
Alissar has always been keen on developing her technical expertise in nursing to build a successful career, but she fell in love with this field as she delved deeper into it. "Initially, I chose the nursing field to fulfill my mother's unattained dream; however, I started developing a personal interest in nursing throughout my practice and my discovery of the human body. I used to go to my internship with big enthusiasm as I looked forward to the new stuff I would learn every day," she says.
Starting off as a COVID-19 front liner
Before graduating from university, Alissar's biggest concern was not finding a job opportunity because she lacked work experience. However, graduating in 2020 amid the COVID-19 pandemic offered her the opportunity to join frontline healthcare workers and support in curbing this outbreak.  
"I was a shy fresh graduate and I did not know how to deal with challenging situations the way I do today after I witnessed many deaths and shocking incidents. However, I am stronger today, less shy, and fearless," Alissar says.
Joining the Cholera Response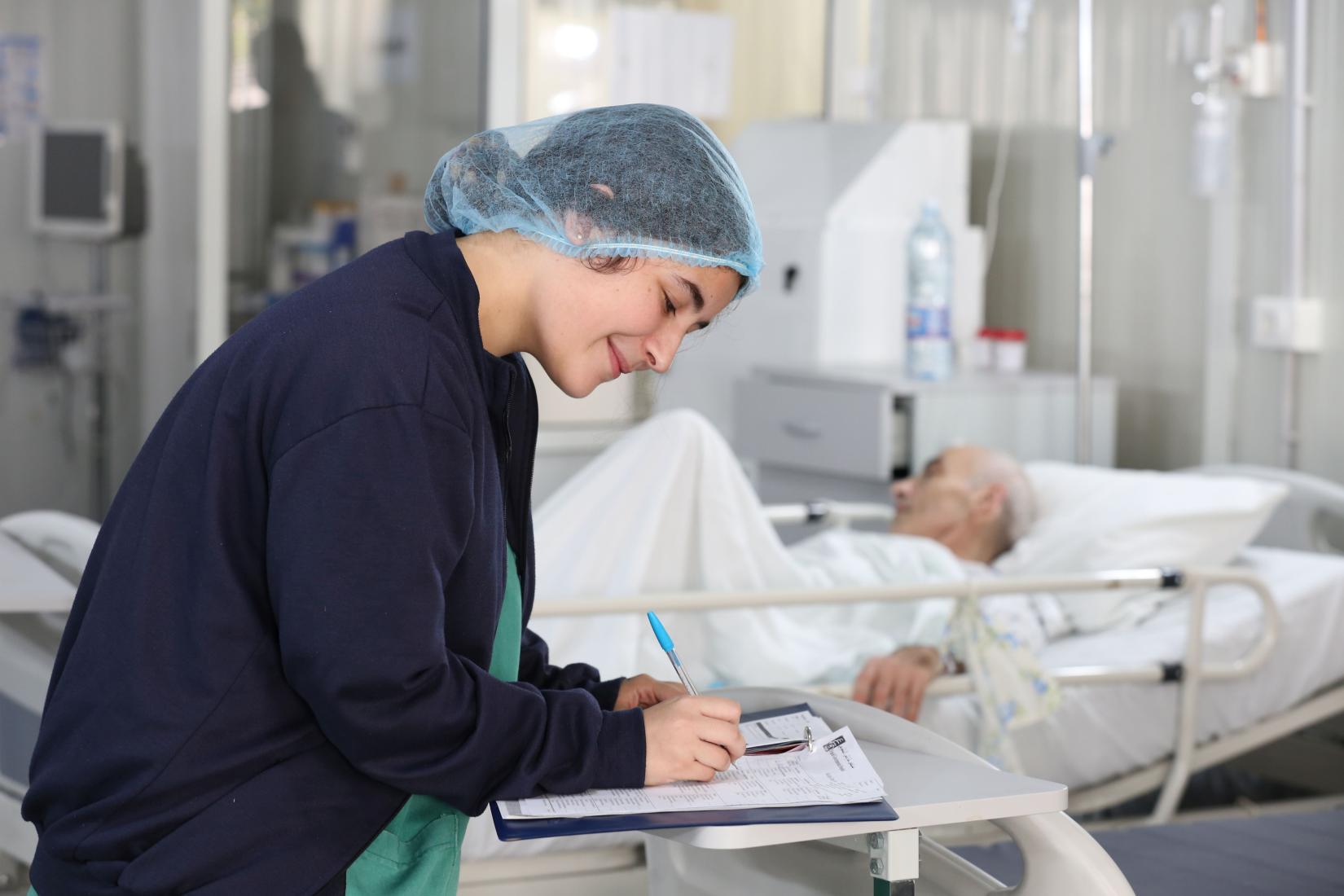 Alissar is a specialized nurse in supporting intensive care units and cardiovascular departments, and she was selected with few other nurses to join the team curbing cholera spread in North Lebanon after she underwent a technical exam in her specialization. "I knew that the World Health Organization (WHO) in Lebanon, in collaboration with the Ministry of Public Health (MoPH), were looking for nurses to join their team at the Tripoli Governmental Hospital to work on the cholera response, so I decided to apply and I did very well in the exam."
With the aim of providing a comprehensive overview of the cholera outbreak response and in order to improve the prevention preparedness and the management of cholera cases, UN Lebanon through World Health Organization (WHO) has been collaborating with the Ministry of Public health (MoPH) to jointly lead on the cholera outbreak response. Through this project, WHO and MoPH are deploying and training multidisciplinary teams at designated hospitals in North Lebanon, including Menniyeh Governmental Hospital, Tripoli Governmental Hospital, Bebnine Field Hospital, and Halba Governmental Hospital.
UN Lebanon through WHO is also providing technical and financial support for the teams working on the response to make sure patients are accurately admitted, quality case management is provided, the treating team is confident in providing the right care, and the healthcare staff and patients' caregivers are protected.
As a member of the multidisciplinary team deployed at Tripoli Governmental Hospital, Alissar has been trained to provide quality and adequate clinical care for cholera infected patients at the Diarrheal Treatment Center (DTC), which is one of twelve DTCs in areas affected by the cholera outbreak. "Facing crises requires discipline and abidance by health guidance. I am happy to be receiving this important knowledge from WHO and MoPH because it reassures me that I know what I got to do to save people's lives while keeping safe."
In addition to capacitating the health care team with the necessary knowledge, UN Lebanon is also offering the necessary equipment and tools needed at DTCs to ensure an efficient response to cholera. "The center is very well equipped, so I have everything I need to do my job in the best way possible," Alissar says.
Through passion and hard work, Alissar is playing a crucial role in helping people face a health crisis despite her young age. "Being a nurse taught me that I should do my best to help people while accepting the fact that they might die without a previous warning." 
UN entities involved in this initiative
WHO
World Health Organization